Ten years ago, Kevin Plank purchased Sagamore Farm. Since then, our team has accomplished so much together, and as 2017 comes to an end, we have a lot to celebrate in just one year!
We are proud to look back at all of our stakes wins this year, starting with Recruiting Ready's exciting win in the Bachelor Stakes and later the Chick Lang Stakes. He Hate Me won the Tremont Stakes at Belmont, Barry Lee won the Arlington-Washington Futurity Stakes, Ginger N Rye won the Smart N Fancy Stakes at Saratoga, and Miss Temple City won the G3 Ladies Turf Stakes. View replays and charts here.
The 2017 foaling season brought Sagamore Farm 12 beautiful fillies. There is only less than a 1% chance of 12 fillies and 0 colts, but we defy odds at Sagamore Farm. We are eager to see these ladies grow in 2018 as yearlings!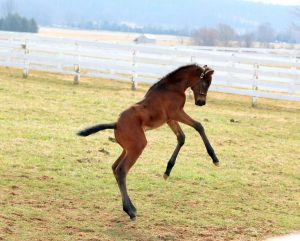 The 142nd Preakness was especially exciting for our team as fan favorites Recruiting Ready and Chubby Star really shined. Recruiting Ready won the $200,000 Chick Lang Stakes, and Chubby Star impressively finished 2nd against the boys in the James W. Murphy Stakes. Read more and watch the replays here.
Maryland Pride Day followed later in the year at Laurel Park, where our celebrated two incredible victories. Maryland Pride broke his maiden in the very first race of the day, and Riley's Choice also won! Read more here.
Our team enjoyed many successes outside of Maryland this year too. We especially enjoyed our time in Saratoga between Equestricon – first and only of its kind premiere horse racing lifestyle event – and some big wins! Ginger N Rye won the Smart N Fancy Stakes, Happy Farm won a great race too, and Southampton Way finished strong in 2nd in the G2 Adirondack Stakes.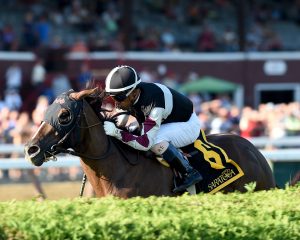 2017 was also an exciting year for our friends at Sagamore Spirit who opened their distillery in Baltimore! Together we also launched our Fast Horses, Slow Whiskey podcast. Listen to past episodes here.
Thanks to Sagamore Spirit, our Three Diamond Club enjoyed rye whiskey during Saturday at Sagamore tours, Fall Fest, and other great events. The Three Diamond Club keeps growing every year, and we were excited to also launch the Three Diamond Shop this year to share our gear that so many club members and fans all over love.
Everything we do is thanks to our dedicated team. Thanks to everyone who keeps Sagamore Farm recruiting ready every day! We're ready to see what 2018 brings.
In The News
10 Year Anniversary Stories