Located in Glyndon, Maryland, Sagamore Farm has a rich history connected with Thoroughbred racing. Founded in 1925 by Issac Emerson, the inventor of Bromo-Seltzer, the farm was bequeathed to Alfred G. Vanderbilt, Jr. for his 21st birthday in 1933 by his mother Margaret, who was Emerson's daughter. Under Vanderbilt's legendary guidance the farm was internationally recognized as a premier training and breeding facility for the next half century. The Queen of England herself kept a broodmare on the property during its heyday.
A member of New York's wealthy Vanderbilt family, Alfred would become the owner and president of Baltimore's Pimlico Race Course. He also served at various times as head of the New York Racing Association and the United States Jockey Club.
In 1941, Vanderbilt teamed up with Walter P. Chrysler, Jr. and other investors to acquire for breeding services the 1935 English Triple Crown winner Bahram from the Aga Khan III. Bahram stood at stud at Sagamore Farm then was sent to Chrysler's North Wales Stud in Warrenton, Virginia. In 1966, Vanderbilt was part of another syndicate that bought Kentucky Derby and Preakness Stakes winner Kauai King who would also stand at stud at Sagamore Farm.
Since founded, Sagamore Farm has held international recognition as a premier breeding and training ground in the thoroughbred industry. The farm's most famous equine resident was Native Dancer. Known to the public at large as the Galloping Grey Ghost, Native Dancer went 21 for 22 during his racing career which spanned from 1952 to 1954. In 1953 Native Dancer won both the Preakness Stakes and Belmont Stakes.
Sagamore Farm's best known racehorses were Discovery, Bed o' Roses, and Native Dancer, all of whom were inducted into the National Museum of Racing and Hall of Fame.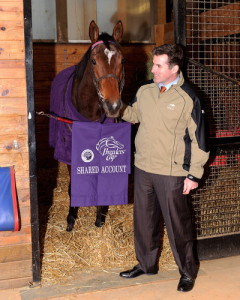 Vanderbilt sold the farm to developer James Ward in 1986. In 2007 Maryland native Kevin Plank, CEO and founder of Under Armour, purchased the farm with a long-term plan for a major restoration. The facilities are located in the heart of Maryland Horse Country.
On November 5, 2010, Shared Account won the $2 million Breeders' Cup Filly and Mare Turf (GI) defeating one of the best horses in the world, Midday.