Hunter Rankin's Preakness Picks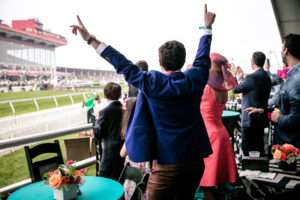 Written by Jesse Johnson. 
With the 145th Preakness Stakes set for this Saturday at 5:36PM, here's some commentary on the field featured in the race from our president, Hunter Rankin, to help you pick your favorite!
PP1 Excession: "He ran pretty well in the Rebel. If he runs back to that race, you could say that he has a chance to be in the top 4. But running back to that race with a five-month layoff, going 1 3/16 miles is very tough to do."
PP2 Mr. Big News: "He ran the best race of his life in the Derby, by a lot. From a gambling perspective, I don't like that coming back the next race … sometimes it's difficult for a horse to repeat that.
PP3 Art Collector: "Probably the main threat to Authentic. We actually ran against him (with Necker Island) and he beat the doors off us. He's a very consistent horse and ratable, which means he can do any pace scenario."
PP4 Swiss Skydiver: "If you look at her line, she has ran in 9 different race tracks and she has been consistent in all of them. She's made of iron. If Authentic doesn't have the lead, I think she will."
PP5 Thousand Words: "I don't see [Bob Baffert] trying to beat himself. I think he's a pretty nice horse, but I don't think he's as good as Art Collector or Authentic. I think he could easily be in the top 3 or 4, but I wouldn't pick him on top."
PP6 Jesus' Team: "He's gonna have to run a lot better than he ever has. I just don't see that he really belongs with this group."
PP7 NY Traffic: "He ran well in the Haskell, but he was very disappointing in the Derby. He was close to the pace, which you would think being close was good that day because Authentic was on the lead and he stayed on. I don't think that was a really good effort and I would pass on him."
PP8 Max Player: "The more ground he gets, it seems like the better he is. You've gotta use him underneath, like in 3rd or 4th if you're betting superfectas because he could easily pick up the pieces and get 3rd or something."
PP9 Authentic: "Bob Baffert has had very good luck in Baltimore. I watched [Authentic] work the other day at Churchill and he looked really good. I hate to pick the favorite, but I don't really see anyone beating him."
PP10 Pneumatic: "He ran a pretty deceivingly good Belmont. I would say if you're looking for a long shot, he'd be kind of an interesting horse. I like how he ran at Monmouth and he'll be fairly close to the pace again."
PP11 Liveyourbeastlife: "I think the Jim Dandy he's coming out of was kind of a weak race. He ran pretty well, but I think he'll like the extra distance. He's gonna have to step up a fair amount if he wants to be in the mix."
The Bets: Exacta Box 3,9,10 | 10 cent Superfecta 3,4,9,8,10
Visit our friends at Americas Best Racing for more cheat sheets and their Where To Watch Guide!
Good luck and safe trips to all runners and their connections!