As we continue to celebrate the 10-year anniversary of Kevin Plank purchasing Sagamore Farm, we are thrilled to share Alfredo Briones Martinez's story. Alfredo is one of the few people who have been at Sagamore Farm since the very beginning.
Before the farm was ready to house horses, Alfredo spent his days mowing the grass and working with the grounds crew. During his first couple years at the farm, horses began to arrive and he became part of the racing/training operation. He had never worked with horses before and describes seeing the first horses who were born as completely life-changing. "I started learning how to work with the horses back in 2009 when the first babies arrived, and then I was so excited to help the trainers."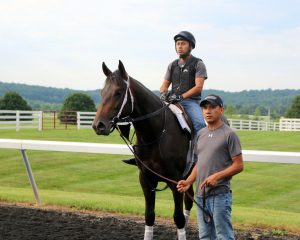 What's a day in the life of Alfredo like now? "The first thing I do every morning is check the temperature of the horses and groom the horses. Then I start helping our guys with many different things, wherever they need help. I work with everybody. I help everybody."
Alfredo's first day was during the summer, which is still his favorite season at Sagamore Farm because of the incredible scenery. His favorite part of the farm is walking in the afternoon, enjoying the sunset. He's also always happy to share memories of his son growing up playing here and enjoying the farm too.
When asked if he has a favorite horse, he claims, "I don't know if I have a favorite horse. Every horse is special. I see them as babies, then with their first saddle, their first wins, their first everything. Millionreasonswhy will always stand out for me though. I don't know why!"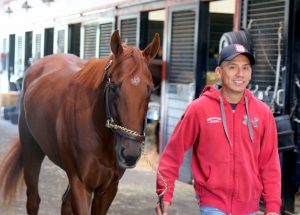 "Alfredo is a great man and an integral part of the Sagamore team. We're so happy to celebrate his 10 year anniversary and we congratulate him on the accomplishment."
– President Hunter Rankin 
"He has always been a happy addition to our family, willing to help anyone he can."
-Randy Lewis, our Director of Guest Services and Business Development
Read more stories about our team and the past 10 years here: