Not only has Debbie Moorefield been here for the past 10 years since Under Armour founder and CEO Kevin Plank purchased Sagamore Farm, but she also worked at the farm during the Vanderbilt-era.
Although Debbie has been around horses her entire life, she proudly tells everyone how she got her equine degree from "Sagamore University." She started working here when she was 20 years old, and she learned just about everything she knows today at Sagamore Farm. Debbie even met her husband of 33 years, Steve, at Sagamore Farm.
In her day-to-day tasks at the farm, Debbie leads the charge in the daily feeding and caring of mares, foals and yearlings. She ensures that all health care is kept up-to-date and all medicine and supplies are stocked for future use. From eyes and noses, to legs and hooves, Debbie takes pride in caring for every inch of our Sagamore athletes.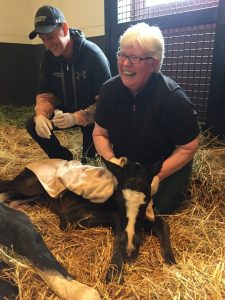 As Broodmare Manager, Debbie also loves to tell stories about the individual quirks and strengths of each broodmare and foal at Sagamore Farm.
"We call Roadtohanna Roadie… Big Roadie. She's really funny! For a mare who's so big, she gets really wound up sometimes, and she'll stand straight up in the air. It's her thing when she gets silly. It's really impressive to see her do it."
She was the very first horse purchased by the Sagamore team and has been here for the past 10 years. She has been an especially incredible mom, playing a role in the team's commitment to Maryland breeding. Read more here.
Debbie describes being with these horses from the moment they are born as watching your own child grow. It's exceptionally special for broodmares like Walkwithapurpose, Tell a Great Story, and Charged Cotton who Debbie has cared for since they were born, watch them become stakes winners on the track, and now have babies of their own.
"Walkwithapurpose was always very opinionated and still is. Her babies are the same way too."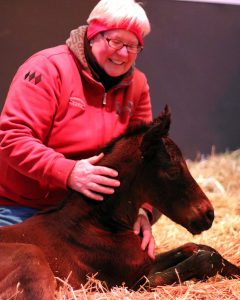 "I try not to have favorites because I really do love them all," Debbie explained, but she does show some partiality towards Tizthen. "There's something very soulful about her when she looks at you."
Last year's Yearling Show is one of Debbie's most memorable moments when Southampton Way (Into Mischief – Roadtohanna) won Grand Champion! Read more here. And of course, foaling season never gets old. It's an exciting time for Debbie every single year.
When asked what the Spirit of Sagamore truly means to her, Debbie replied, "[It] is a combination of the land, the people, the horses—past, present and future—and the rich tradition that is Sagamore Farm. I am so proud to have been a part of the past and now the future of Sagamore!"