Thought Leader is a 5YO gelding by Street Sense out of Salsa Star, and he is half-brother to Chubby Star, Nest of Pirates, and a yearling colt by More Than Ready.
He never made it to the races, never even got his official racing tattoo, and everyone who meets him can see why. "Leader" is as calm, gentle, and sweet as they come. He is the kind of horse that will stand forever while you groom him and fuss over him. He is slow and steady both on the ground and with riders aboard.
Leader spent a year in training with Nuno Santos, who is also retired from the Thoroughbred industry and specializes in training Thoroughbreds off the track for a second career. Leader works with students of all levels – including beginners!
Born and raised at Sagamore, he makes our team proud of his gentle nature and excellent manners.
Leader is a wonderful ambassador for Thoroughbreds as pleasure horses. There are misconceptions about Thoroughbreds being high strung and difficult to handle, so he is a perfect success story. With patience and proper retraining, most Thoroughbreds can make wonderful riding horses at a variety of levels.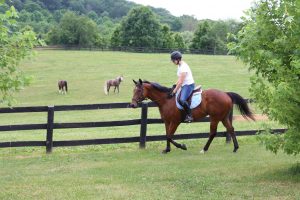 Sagamore retirees Perpetual Optimism and R J Bentley also retrained with Nuno Santos. PO is excelling in dressage training and schooling very well over jumps. RJ has months of foundation in flat work and dressage and just started over small jumps last month.
Learn more about Thought Leader here. Stay tuned for more Thoroughbred Thursday stories soon! Follow us on Facebook, Twitter, and Instagram for updates.