In honor of Women's History Month, we caught up with Sue Kenney who volunteers her time preserving Sagamore Farm's rich history. She started in 2008 by collecting memorabilia, helping with tours, and talking to people who used to work at the farm.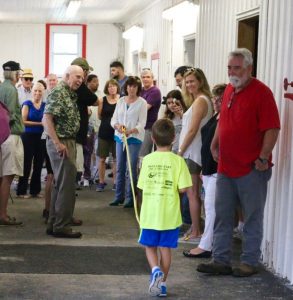 Keeping the story of the Vanderbilt-era farm alive is near and dear to Kevin Plank's heart. As Sue explains, "Kevin is always interested in the history and loves hearing stories." One of the inspirational pillars our team follows is a reminder to always tell a great story. Kevin even named a horse Tell A Great Story.
Sue has also kept in touch with Alfred Vanderbilt III, "He's a wealth of information and great to talk to." When his father Alfred Vanderbilt II was posthumously inducted in the National Museum of Racing's Hall of Fame, Sue had the opportunity to share this experience as well, which was thrilling for many Native Dancer fans.
"Alfred Vanderbilt II's mother Margaret Emerson was certainly a strong woman in his life," Sue explained. Although there weren't many women on the farm during the Vanderbilt-era, Margaret is still remembered today for her dedication to her family. Her father Isaac Emerson bought Sagamore Farm for her, but she gave the farm to Alfred Vanderbilt II on his 21st birthday.
This year marks the 10th anniversary since Kevin Plank purchased the farm, and Sue says, "We are thrilled to see how the generosity and interest from people who care about the history of Sagamore Farm has developed and grown over the past 10 years. Our tours of the farm improve every day as we continue to learn more about the farm's history."
We are so grateful for the people who are kind and generous enough to donate their time and occasionally artifacts to help preserve the history here at Sagamore Farm.
If you are interested in learning more or signing up for a tour, please join our Three Diamond Club (scroll to the bottom of this page for the form). Read more about our history here.