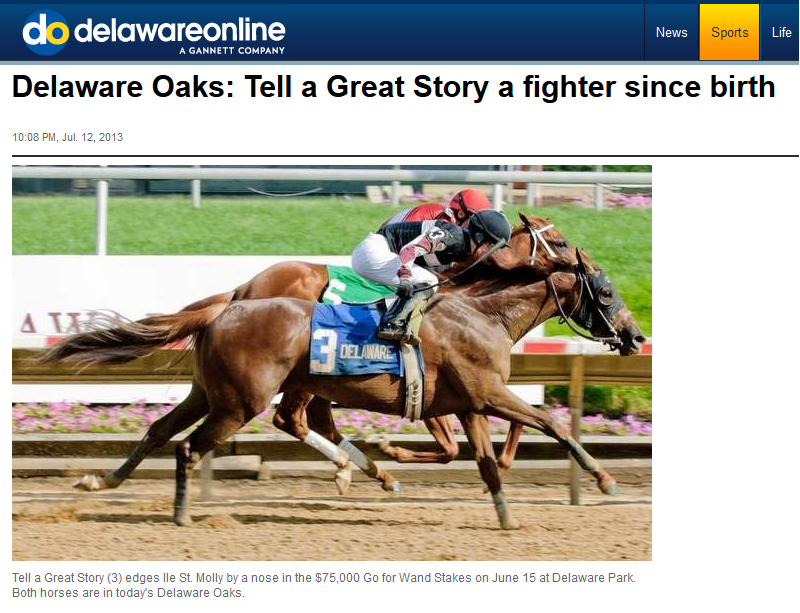 Tell a Great Story, a big, strong 3-year-old filly, will be among the favorites when the Grade II, $300,000 Delaware Oaks is run today at Delaware Park.
But on April 5, 2010, she was anything but big and strong. That was the night Tell a Great Story was born at Sagamore Farm in Glyndon, Md., and there was a problem.
"We finally got the filly out, but she had a faint heartbeat," said Tom Mullikin, the farm's general manager. "She wasn't visibly breathing. So basically, our job was to revive her. … You have to get oxygen to her as fast as possible, and we were able to resuscitate her."
The difficulties were just beginning.
"With the lack of oxygen, they don't have their reflexes," Mullikin said. "Basically, they don't have their suck reflexes. It just like a child, if they're delivered and there is a lack of oxygen, there is brain damage. With horses, they can come out of it if it's not too severe."
The young filly was unable to nurse her mare, Roadtohanna. The Sagamore staff inserted a feeding tube into her nose, milked the mare and used a green soda bottle to pour the milk through a funnel into the feeding tube. The staff still has the soda bottle in the foaling barn.
Tell a Great Story showed some of her spirit by knocking the feeding tube out of her nose just two days into her life. So for the next eight days, the Sagamore staff had to feed her by hand – every 30 minutes, around the clock.
"We noticed she was looking to us every time we would come by the stall," Mullikin said. "She was depending on us. So after eight days we came to the decision to just leave her alone and see what happens. Then she started nursing the mare."
The young filly began to progress rapidly.
"From then on, she never showed any ill effects from being what is termed a 'dummy' foal," Mullikin said. "… She was a little behind the others, just in terms of her development physically. And I don't know if you can equate it to her being a dummy foal, but mentally it took her time to kind of grasp the game and what racing is all about."
"Tell a great story" is one of the slogans of Under Armour founder Kevin Plank, who owns Sagamore Farm. Given her difficult beginning, the decision was made to name the filly Tell a Great Story.
Now, she has the racing game figured out. Tell a Great Story won the $75,000 Go For Wand Stakes, the prep race for the Delaware Oaks, on June 15 at Delaware Park. She came from behind to nip Ile St. Molly in the stretch and will face that rival again today. The Go For Wand was Tell a Great Story's third win in five career starts, and she already has earned $103,820.
"When she won the Go For Wand, it was this incredible stretch drive, and she just gets there at the wire by a nose," Mullikin said. "You have to think that because she's a fighter, that's what really got her through those first couple of hours and days of her life. For us, it's a really special story."
Tell a Great Story is the 5-2 favorite on the morning line, with Ile St. Molly at 3-1 and Maracuya, who has won two of three lifetime starts, at 4-1. Mullikin said less than 10 percent of horses have births this difficult, but he pointed out that 1991 Kentucky Derby winner Strike The Gold was a dummy foal.
"This is a good example of how much the people behind the scenes, how much they care about these horses and how much time and effort they put into them," Mullikin said. "Here we are now, and she's a stakes winner. She doesn't owe us anything, and she's doing great. We're really proud of her."
♦♦♦