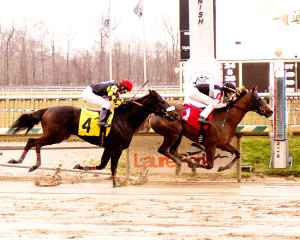 Laurel Park, Md. – Despite the gloomy weather, Sagamore's two year old filly, Ginger N Rye, powered through to her first career win in the seventh race at Laurel Park on Wednesday, December 3. In her third career start under jockey Trevor McCarthy, Ginger N Rye chased after Clem Gem early on, and going into the last turn, found her opportunity to edge Clem Gem out. Ginger N Rye skimmed the inside of the rail and pulled out in front, winning the race and breaking her maiden by ¾ lengths. Ginger N Rye entered the race with 6.50 – 1 odds.
Ginger N Rye had her first career start on September 25 at Laurel Park, finishing second, followed by a sixth place finish at Laurel Park on October 19.
<iframe width="560″ height="315″ src="//www.youtube.com/embed/JY_inG9-S8A?list=UUZPwm5nBXbeRLYA5QB1OZaQ" frameborder="0″ allowfullscreen></iframe>
♦♦♦
Two year old filly Chainsmoknsuprmodl also had a strong race at Laurel Park this week, finishing second in the seventh race on Thursday, December 4. This was her third career start, and highest place finish. Led by jockey J.D. Acosta, Chainsmoknsuprmodl dropped to the back of the pack early in the race, but came back from the extreme outside and put up a rally to take second place, 6 ¾ lengths behind winner Play Pretty. Chainsmoknsuprmodl entered the race with 30.10-1 odds.
<iframe width="560″ height="315″ src="//www.youtube.com/embed/gMK-3CtaSiY?list=UUZPwm5nBXbeRLYA5QB1OZaQ" frameborder="0″ allowfullscreen></iframe>