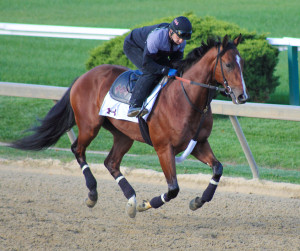 Laurel Park, Md. – The track was fast for Sagamore's two year-old-colt Perpetual Optimism in the sixth race at Laurel Park on Friday, December 19.  In his fourth start of the year under jockey Trevor McCarthy, Perpetual Optimism surged out of the gate, and came from the outside to take the lead early on.  He remained in first place until the final furlong when Tekton, who had stayed just behind Perpetual Optimism from the beginning of the race, battled and edged into first.  Perpetual Optimism was unable to make a comeback, and came in second by 3 ¼ lengths.  Out of his four starts this year, Perpetual Optimism has finished second in three of them.
<center><iframe width="420″ height="315″ src="//www.youtube.com/embed/t-Z5VJO86q4″ frameborder="0″ allowfullscreen></iframe></center>
 ♦♦♦
Hallandale Beach, Fl. – On Saturday, December 20, Two year-old colt How You ran a solid race to place third in the seventh race at Gulfstream Park in Hallandale Beach, Florida.  In his first career start for Sagamore Racing, How You was led by jockey Joe Bravo, and settled near the back of the field early in the race.   He picked up his stride after the final turn though, and moved up in the pack, finding a spot just behind the front runners. How You kept his kick until the finish and placed third, 1 1/4th lengths behind the winner, Reconfigure.
View the recap of the race HERE.