Article courtesy of Paulick Report.
by Natalie Voss | 10.07.2016 | 12:23pm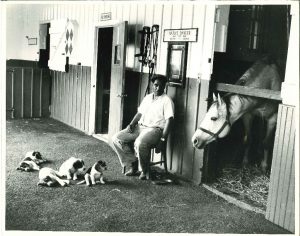 Native Dancer, for all his racetrack achievements, wasn't known for being the kind of horse you'd call cuddly. The winner of 21 out of 22 races, Native Dancer was a two-time Horse of the Year, made the cover of Time magazine, and was one of the top three television personalities of 1954. He was also one of the more violent racing heroes; in addition to being responsible for a few missing fingers, he was known for dropping his left shoulder on the way to workouts to dump his rider. If that didn't work, he figured out how to reach around and grab the jacket of an exercise rider and yank them to the ground that way.
Sue Kenney, historian for Sagamore Farm, knows of just a few living creatures who got along with "The Grey Ghost": grooms Joe Hall and Les Murray, and small animals.
Puppies and kittens were Native Dancer's favorites, and he was known to reach under his stall guard at the farm and nuzzle pets as they played in the aisle. Kenney said dogs belonging to Hall seem to have been favorites. A Sagamore barn cat named 'Mom' was a regular visitor to him at the stallion barn. Another named simply 'Black Cat' charmed him so much that she made a bed in his stall.
"She went around the farm and had various litters of kittens, who were always black," said Kenney. "At one point she took up residence in Native Dancer's stall, and lo and behold, that litter of kittens were gray. People said at the time, 'Wow that's one powerful horse, to have that type of effect.' It really doesn't make sense, but I get a kick out of that."
Strangely, Native Dancer did not seem to be a fan of larger companion animals. Kenney has found information in her research that he once kicked a police dog across his stall, and she suspects that may be the reason no one seems to have tried introducing him to goats.
Without the animals and people he favored, Native Dancer was a challenge to handle. Groom Joe Hall was briefly dismissed from Sagamore at one point during the stallion's stud career. Owner Alfred G. Vanderbilt II showed up to visit the horse and didn't like what he saw.
"There stood Native Dancer, and he was kind of rough-looking, and it looked like he hadn't been groomed in a long time. He asked the people in the stable, 'What is wrong with Native Dancer?' They said, 'We fired Joe Hall, and no one else can get close to him,'" said Kenney. "Vanderbilt said, 'Bring Joe Hall back.'"
Kenney has made a study not just of Native Dancer (and his various companions) but the entirety of Sagamore's history. She has sifted through old records and photographs, examined old trophies, and recorded oral histories. Kenney's findings are used in the tours Sagamore offers to the public, and she hopes they will one day be part of a museum.
"I guess it was about eight months ago I was looking through some old papers and there was an envelope. It was a thick envelope and it was labeled 'Dead Horses,'" Kenney remembered. "I looked and there were all the foaling papers of the best horses: Native Dancer, Discovery, Bed o'Roses. So, I never know what I'm going to find or what people are going to tell me, but it's really exciting."