The day we have all been waiting for is finally here! Triple Crown season continues with Preakness right here in Maryland. Three horses from Sagamore Racing will be running this year during Preakness Saturday.
Chief Istan is entered to run in the 7th Race at 2:04PM ($55,000 Purse and 6 Furlongs). Click here for a list of full entries. Chief Istan is by Istan out of My Indian, and he won his last race by a large margin of 8 3/4 lengths at Keeneland. Watch the exciting replay here.
The Chief will make his first start since April of last year. After that race he had a minor injury that sidelined him for a time, he has been back in training since the beginning of the year and he's working well in preparation for his 2016 debut. This horse has shown a lot of talent in the only two races of his career and we're hoping he returns to that form on Saturday.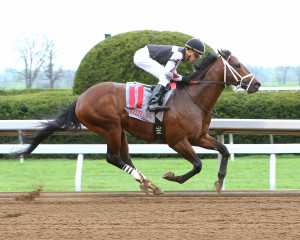 Ginger N Rye is entered to run in the 65th running of the Gallorette Stakes G III, the 10th Race at 4:02PM. ($150,000 Purse and 1 1/16 Miles on the Turf). Click here for a list of full entries. Ginger N Rye is by More Than Ready out of La Milanesa, and she has won 3 races at Laurel Park. She most recently ran in the Dahlia Stakes where she had an incredible 2nd place finish. Watch the replay here.
Ginger will make her second start of 2016 on Preakness Day. Coinciding with the launch of Sagamore Spirit, there wouldn't be a more perfect story than for her to run well on Saturday. She's training well, she always tries hard and while this is a big step up in class for her, we're hoping for a solid effort.
Brute Force is entered to run in the 14th Race at 7:35PM ($50,000 Purse and 1 1/16 Miles on the Turf). Click here for a list of full entries. Brute Force will make the second start of his career on Saturday. He ran 8th back in April, but was only beaten 6 lengths in a 5.5 furlong sprint race. He'll get more distance in this effort, and he should appreciate the extra ground. It's the last race of the day so it would be fun to go out on a high note. Brute Force is by Quiet American out of Hoka He.