By Melissa Hoppert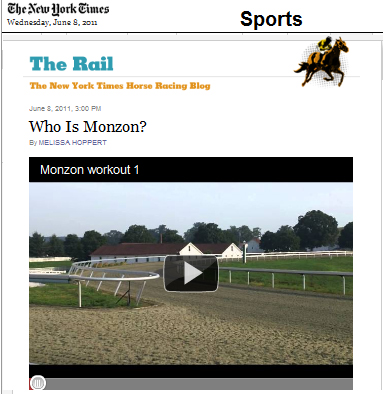 The staff at Sagamore Farm, once owned by Alfred G. Vanderbilt and being restored by the Under Armour founder Kevin Plank, sent us these videos of Monzon's final work before the Belmont Stakes on Saturday.
At 7:50 a.m. on Tuesday, he worked a half mile in 48.40 seconds under the exercise rider Dimitrios Dimitropoulos on Sagamore's tapeta training track.
"His final workout went as well as we could've expected," his trainer, Ignacio Correas IV, said. "Fast and easy all the way around. He's heading in to the race the way we want him to be. I think he is going to run a good race."
Correas is the in-house trainer at the 530-acre Sagamore, and Graham Motion trains some of their horses as well.
"He's doing very well," Tom Mullikin, the racing manager at Sagamore and a high school friend of Plank's, said of Monzon. "I think Ignacio is a great horseman and has done an excellent job with preparations. It's now up to Monzon."
Monzon, named after the Argentine middleweight boxing champion Carlos Monzón, drew the No. 7 post and will be ridden by Jose Lezcano. He has won three of his eight starts and finished sixth in his last race, the May 14 Peter Pan Stakes at Belmont Park. He will travel to New York early Saturday morning.
"It's the only home he's ever known, so we want to keep him as comfortable as possible," Mullikin said.
Monzon, who has morning-line odds of 30-1, is a son of the 1995 Belmont winner Thunder Gulch. He would not be the first long shot to surprise from Sagamore. At the Breeders' Cup in November, the 46-1 shot Shared Account, trained by Motion, beat the heavily favored Midday in the Filly & Mare Turf.
"We're swinging for the fences," Mullikin said. "Monzon will be facing a very deep and accomplished field. It's going to be a great day of racing, so we're going to take a shot and have fun."
♦♦♦