Miss Temple City by Temple City out of Glittering Tax is entered in the Grade 1 Breeders' Cup Mile at Santa Anita Park on Saturday, November 5. Post time is 4:40 PM PST.
"It's my favorite time of year. The Breeders' Cup is our Super Bowl," explained H. Graham Motion, trainer for the four-year-old filly. "I plan my whole year with the horses around hoping to have them on their best in November."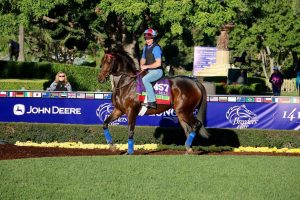 "The Breeders' Cup Mile will be the best milers in the world," said Hunter Rankin, President of Sagamore Racing. "Some are coming from Europe. Tepin will be in there as well. We have a lot of respect for Tepin obviously with what she has been able to do traveling to Ascot and then back, and come back as the same filly, which is really difficult. We know how hard that is."
"It's going to be really tough, but Miss Temple City is up to the challenge. We think she'll run well."
Watch our video about Miss Temple City featuring comments from both H. Graham Motion and Hunter Rankin here.
Listen:
Sagamore Racing's Breeders' Cup Journey With Miss Temple City (WBAL Radio)
Read:
A horse in the Breeders' Cup carries with it the pride of a city, and its owner's late wife (Pasadena Star-News)
Tepin, Miss Temple City Set for Mile Showdown (Blood Horse)
Getting to Know Miss Temple City (America's Best Racing)
Digest: Miss Temple City tops the Boys at Keeneland (Baltimore Sun)
Miss Temple City Upsets the Boys Once Again in Shadwell Turf Mile (Paulick Report)
Watch:
Shadwell Turf Mile Stakes replay