After a noble 4th place finish overseas at Royal Ascot in the Coronation Stakes, Sagamore Racing, Allen Rosenblum and The Club Racing LLC's Miss Temple City is returning to the U.S. to run in the $300,000 Grade 2 Maker's Mark Lake Placid Stakes at Saratoga Race Course on Friday, August 14.
"She's doing great," said Graham Motion, Miss Temple City's trainer. "I wasn't in a hurry to run her. She'd had two months, so I think that should be fine. It's a tough trip coming back. We have to go to Amsterdam to fly back to the States. It makes for a long trip."
Finishing just two lengths behind Europe's best fillies on June 19, the three-year-old filly by Temple City, out of Glittering Tax, by Artax, is looking to bounce back and secure her first victory since winning the Hilltop Stakes on Black-Eyed Susan Day at Pimlico Racecourse.
"I think she keeps maturing," Motion said. "I wish we could have hit the board, because it would have been great for the owners to get the black type in England. I think it was a success. I'm going to keep trying. She's a really good filly."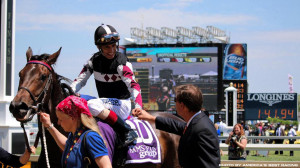 Under Hall of Fame Jockey John Velasquez, Miss Temple City will go the 1 1/8-mile turf track in the No. 3 post, battling alongside graded stakes winners Consumer Credit and Strict Compliance. To date, Miss Temple City posts a 6-3-1-1 career record with $172,799 in earnings.
To learn more about Miss Temple City and to receive race entries and results, fans can sign up for the Virtual Stable at www.SagamoreRacing.com/Stable.
Source: NYRA