A new year means new ventures for the Sagamore team! Sagamore Racing is thrilled to introduce the official podcast of Sagamore Racing. Fast Horses, Slow Whiskey gives fans an inside look at horse racing and whiskey, the Sagamore way with hosts Hunter Rankin, President of Sagamore Racing and Brian Treacy, President of Sagamore Spirit.
LISTEN to the first episode now: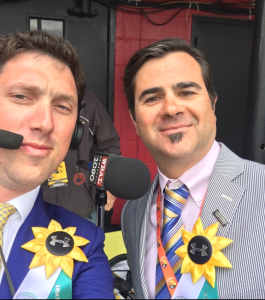 In the premier episode of Fast Horses, Slow Whiskey, Hunter Rankin welcomes his regular co-host Brian Treacy, president of Sagamore Spirit, as they go inside Maryland's rich history connected with Thoroughbred racing and Rye Whiskey!
Sagamore Spirt is a new Baltimore-based whiskey company that is proud to make spirits worthy of Maryland's distilling heritage. Sagamore Spirit Straight Rye Whiskey is an American whiskey with a unique mash bill and proofing process. The distilling team mingles two different mash bills – a high rye and a low rye – and then adds Sagamore Farm spring-fed water to create an 83-proof Straight Rye Whiskey. 100 percent of the whiskey is hand-bottled and labeled by the Sagamore Spirit team.
Listeners can expect bi-weekly episodes of Fast Horses, Slow Whiskey featuring guests from the racing and whiskey industries, sports community and beyond!
Subscribe to the podcast here. In the coming weeks, episodes will be made available for download in the Apple iTunes store. Follow us on Facebook and Twitter for updates and episode teases.
Have a topic you'd like Hunter and Brian to discuss? Send us an email here or leave a comment on social media.