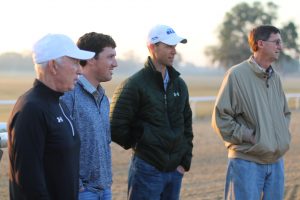 In the 2nd episode of Fast Horses, Slow Whiskey, Hunter Rankin and Brian Treacy catch up with David O'Farrell of Ocala Stud to get an update on the Sagamore two-year-olds in training who began their journeys at this world-class facility as yearlings. David also shares his perspective on the year ahead in Thoroughbred racing.
As Hunter explains, "Ocala Stud, in terms of what they do and how they do it, they're the best in the business." Ocala Stud is the oldest, continuously operated Thoroughbred farm in Florida. David O'Farrell is the Operations Manager. His father, J. Michael O'Farrell Jr., took over running the now solely family-owned operation in 1971 when he was but 22.
Other topics include the Pegasus World Cup on January 28 where Arrogate and California Chrome will have an exciting rematch, past and potentially future Derby and Oaks winners at Ocala Stud, a game called Three Diamonds, and some Ravens vs. Steelers rivalry.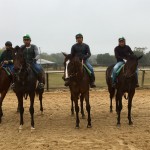 Listeners can expect bi-weekly episodes of Fast Horses, Slow Whiskey featuring guests from the racing and whiskey industries, sports community and beyond!
Subscribe to the podcast here. Episodes are available for download on iTunes as well. Follow us on Facebook and Twitter for updates and episode teases.
Have a topic you'd like Hunter and Brian to discuss? Send us an email here or leave a comment on social media.