Many often wonder what becomes of racehorses after they retire from the sport. Groups like the Retired Racehorse Training Project (RRTP) aim to increase demand for retired Thoroughbred racehorses and build the bridges to second careers. This past weekend, former Sagamore Racing colt and current RRTP participant, Heat Press, had the opportunity to show off his new skill set. 
Under current trainer Amy Bunt, Heat Press placed sixth in the Eventing category at the 2015 Thoroughbred Charities of America (TCA) Thoroughbred Makeover event in Kentucky. His efforts didn't go unnoticed, as Bunt received the "Eventing Top Amateur" trainer award as a result of the competition. Bunt will continue to show Heat Press through the winter months and is considering extending their time together due to their promising relationship in the competitive world of Eventing.
"It is kind of surreal to now be around him and see him in this whole different light," said Bob Feld, Sagamore Racing bloodstock agent. Feld has followed Heat Press from his first race with Sagamore to his first competition in his second career.
"Horses on the track tend to have an athlete aura about them, since they are in serious training. You are trying to have them at peak racing levels all the time. The regimen on the race track is very calculated as they go through their day. To see Heat Press and watch him in a more relaxed atmosphere is really fun. You can really get to know their personalities much more when they are off the track."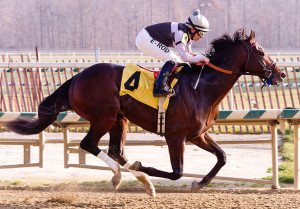 During his time with Sagamore Racing, Heat Press posted a 14-2-3-1 career record with $97,270 in earnings. Heat Press joins Gunport as both Sagamore Racing and RRTP alumni.