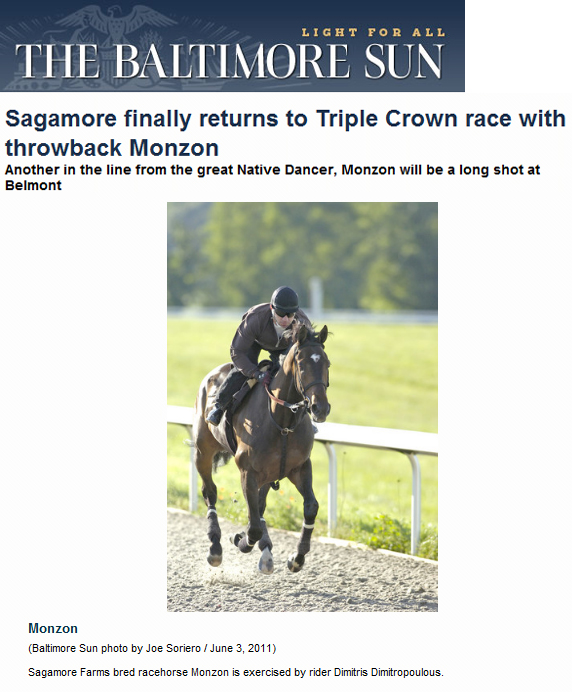 By Sandy McKee
When the foal dropped to the ground at Sagamore Farm in Green Spring Valley in February 2008, he had no idea what was in store for him or what he might mean to a horse farm with deep Maryland roots and a long history of greatness.
But Saturday, Monzon is expected to go to post in the Belmont Stakes as the first Sagamore home-bred to compete in a Triple Crown race possibly since the great Native Dancer in 1953.
Isn't it fitting, then, that Monzon's breeding tracks back to Native Dancer — a winner at both the Preakness and Belmont as well as two-time Horse of the Year — who was bred by Sagamore owner Alfred G. Vanderbilt?
And isn't it curious that the horse's conformation, his physical build, is more like that of his ancestors than of those who run today? His rump is high, his back slightly dipped, and his neck long.
He's named not for his parentage but for a famous Argentine boxer, Carlos Monzon, who held the world light heavyweight title for seven years.
Monzon (pronounced Mon-zone) is not gray like Native Dancer, who was nicknamed the Gray Ghost, either. And while Native Dancer was the first horse to become a television star, so bright TV Guide once ranked him second only to Ed Sullivan as TV's biggest attraction, Monzon is a bay and when he gets to Belmont Park he may be one of the lesser-known horses in the race.
"He has a fighter's chance," said Sagamore general manager Tom Mullikin. "We know we're long shots and up against the best in the country, but we're going to have fun with it. We like taking our shots. It is what racing is about — going for it. We think he has a chance to land a big punch."
Monzon, a gelding, will take his resume to Belmont Park, where trainer Ignacio Correas, IV, said there won't be many horses Saturday who can match his record of three wins and a stakes victory. In Monzon's most recent race, the Grade II Peter Pan Stakes at Belmont, he finished sixth under the hands of jockey Jose Lezcano, who will also ride him Saturday. In that race, designed only to be used as a prep for the Belmont Stakes to help him get his rhythm back, he was troubled from the start and still closed well.
But looking at Monzon in his stall, you will be forgiven for wondering if Mullikin is serious about this horse. He is big, more than 16-hands tall, but he also looks, well, fairly common. His ribs are showing, his coat looks dull and his head is down as visitors approach. When owner Kevin Plank, who has restored Sagamore's infrastructure and has Mullikin working on rebuilding its livestock, first showed Monzon as a yearling to Correas, the veteran horseman couldn't help but wisecrack, "You want me to win the Kentucky Derby with that?"
Correas laughs at that memory, and another.
"During the winter, when he was in his stall, he worried me to death. I'd look at him and think, 'He's not looking good. He's not putting it together.' " he said. "Then I'd bring him outside and smile. He was perfect.
"He's a completely different horse when he's outside."
Monzon is not usual in his wants. Unlike most horses he does not like peppermints or apples. To him a treat is being outdoors, eating grass, with the sun playing over his rippling shoulder muscles. In those moments he looks more the part of a champion horse, ready to run until nightfall.
In fact, jockey Edgar Prado, who has ridden him twice — including to victory in the Count Fleet Stakes at Aqueduct earlier this year — said Monzon "can run all day." Correas said, as he watched his horse graze, "I'll be happy if he runs a mile and a half Saturday and takes the rest of the day off."
And there is reason to believe he can.
While Monzon did not have enough graded stakes earnings to qualify for the Kentucky Derby, he certainly has the breeding for the Belmont, the longest race in the United States. His sire is Kentucky Derby and Belmont Stakes winner Thunder Gulch and his dam is Shadow of Mine, which means his great-great-great-great grandfather on both sides is Native Dancer. Another Thunder Gulch offspring, Point Given, won the Preakness and Belmont, too.
"I've never seen a fat horse win a long race," said Correas. "It's the same with people. Look at the New York Marathon, fat people don't win. It's always those skinny guys from Kenya. Monzon doesn't carry a lot of weight and he was not impressive as a yearling. But when we began to work him, he showed from the beginning he had some talent, that he could run. And he has the most important thing in the making of a racehorse — balance.
"He was two different horses at the start. His front and back had to come together. When they did that, you could see the balance. When he put his muscles together, he didn't look bad. And you can tell he has a very good mind."
When Monzon was a yearling, Mullikin said, they put him in Native Dancer's old paddock here at Sagamore in hopes that some of the Gray Ghost's essence would come to reside in him. It is a romantic notion.
There are old stories about the power of the long-ago stallion. It is said that there was a black cat in the barn who traveled with Native Dancer. His name was "Black Cat," and she had many litters of kittens. All were black, until the time she gave birth in Native Dancer's stall. On that occasion, all the kittens were gray. His groom at the time, Les Murray, reportedly shrugged and said, "He's a powerful horse."
Monzon looks powerful too, and Mullikin will tell you something else.
"Monzon is a stalker," he said. "A closer, just like Native Dancer."
♦♦♦