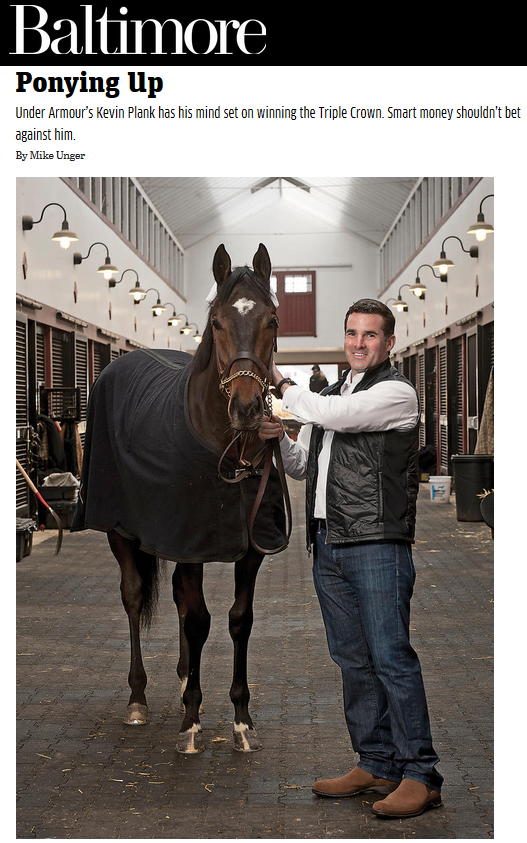 Under Armour's Kevin Plank has his mind set on winning the Triple Crown. Smart money shouldn't bet against him
By Mike Unger
Six horses come barreling around the rail at Churchill Downs, a cacophony of thundering hooves and screaming fans providing the soundtrack to one of the most astonishing finishes in recent horse racing history.
At the 16th pole, Shared Account surges from the inside into the lead. She's carrying famed jockey Edgar Prado and odds longer than the lunchtime line at Faidley's. But there's even more riding on this four-year-old's back: a shot at validation for the Baltimore businessman determined to resurrect a legendary Maryland farm.
As she gallops toward the finish line, it seems the lofty weight of possibility only spurs on the 1,200-pound filly. Not even the renowned horse Midday can catch this brown blur, who dashes one and three-eighths miles in two minutes and 17.74 seconds—an average speed of about 35 miles per hour—to victory.
Shared Account's win at the Breeders' Cup in November was more than just the biggest upset in the history of the Filly and Mare Turf race, one of racing's preeminent events. It also served notice, with all the subtlety of a Louisville Slugger to the side of the head, that the once-great Sagamore Farm was back.
"Long shots define everything about my life," says Sagamore's savior, Kevin Plank, after the race. "Everything we [do] came out today in a 46-to-1 long shot. I think we had odds a little longer than that at Under Armour."
He's referring, of course, to the sports apparel company he founded in 1996 in his grandmother's Washington, D.C. row house. It's grown into a global brand, and Plank says he's using the same blueprint to turn Sagamore, the 530-acre Glyndon farm once home to the now-mythical stallion Native Dancer, into nothing short of America's next great sports franchise.
"I fundamentally believe that we'll deliver the next Triple Crown winner," he says, though Sagamore won't have a contender this year. "I want that identity where people turn on the Kentucky Derby and say, 'Is there a Sagamore horse? I like Sagamore horses, they are tough and gritty every time they run.'"
Shared Account's win is the most visible chapter in the story Plank is trying to create, but it isn't the first. He bought Sagamore Farm in 2007, and since then has overseen its physical renovation and the creation of a racing organization from the horseshoes up.
"We were always very clear—this is a 20-year plan," he says. "I use the statement at Under Armour that we're always smart enough to be naïve enough to not know what we can't accomplish. Winning the Breeders' Cup in year four is like striking lightening, but we always believed it could happen."
Just about everyone else in the horse racing world considered Shared Account an afterthought. Plank was both puzzled and amused by the indifference.
"He felt like he had a great horse," says Eric Mitchell, editorial director of The Blood-Horse, an industry magazine. "Obviously, the betting public didn't see it that way. But Shared Account won. That's horse racing."
While stunning to most, the swiftness with which Plank has steered Sagamore back to the winner's circle is the natural speed at which he's always operated. The 38-year-old conceived of Under Armour while he was a football player at the University of Maryland; last year, the company posted revenues of more than $1 billion.
Before he set out creating the "biggest, baddest brand on the planet," Plank was the Terrapins' scrappy special teams captain. Originally a walk-on, in five years he never missed a practice.
Not to say that college was all work and no play. As an undergrad, he attended his first Preakness, and it was the fading fortunes of the second jewel of the Triple Crown that ultimately sparked his entrance into the horse business. For years, the crumbling infrastructure of Pimlico Race Course and the overall decline of Maryland racing have raised fears that the state could lose the iconic race.
"The Preakness needs to be looking at the Kentucky Derby and saying we're going to kick your butt," Plank says. "There's such a negative impression of Maryland racing. They need to stop talking about what they can't do and start talking about what they can do. Slots are not going to save racing in the state. Great stories and a belief in people, that's what needs to be driven home."
Plank views himself as an advocate for Maryland racing, not its shepherd or spokesman. "Name another day when the entire country looks at Maryland," he says. "It's a great platform for us to say, 'Look at the resources we have here.' We need to sell this area. Maryland's a phenomenal place. I would like to use Sagamore's success as a vehicle to help tell that story."
In 2006, an old high school teammate of Plank's, Tom Mullikin, stopped by for dinner. After 9/11, Mullikin had suffered what he called a "quarter-life crisis," ditched the corporate world, and moved to Kentucky to work on a horse farm. Once the two men had polished off a couple of steaks, Plank pulled his buddy aside: He was getting into horse racing, and he wanted Mullikin to head up his operation.
"I said, 'Well, good luck. It's a tough game, there's a lot of sharks out there,'" Mullikin recalls.
But Plank was determined to get his man. Too many Maryland horsemen, Plank thinks, are resigned to being chum. "They're so beaten down and negative," he says. "That's why we hired no one from the area. We imported people from Kentucky. Tommy had a swagger and he was just a winner."
In his old friend, Mullikin saw the same qualities. So he took a leap of faith, quitting his job in the heart of horse country to work for a man in Baltimore with absolutely no experience in the game.
They set out looking for a farm. No matter where they went, time and time again they'd find their way back to Sagamore.
"I thought we'd start with 100 acres and parlay that into something bigger," Mullikin says. "He showed me [Sagamore] and I said, 'You've got to be kidding.' There was a lot of history here, but it was like urban renewal. I was a little overwhelmed at first."
Though it looked all of its 80-plus years, Sagamore's pedigree was sterling. Founded in 1925 by Isaac Emerson of Bromo-Seltzer fame, it was bequeathed to his grandson Alfred Vanderbilt when he turned 21.
A member of New York's wealthy Vanderbilt clan, Alfred turned Sagamore into a world-renowned farm. The Queen of England kept a broodmare on the property during its heyday, but its most famous resident always will be Native Dancer. From 1952 to 1954, he won 21 of his 22 career races, including the Preakness, and captured the public's imagination like few horses before him—or since. His popularity was such that, in 1953, TV Guide named him one of America's three most popular figures. (Ed Sullivan and Arthur Godfrey were the humans who made the cut.) Vanderbilt sold Sagamore to developer James Ward in 1986. For the next two decades, it floundered, its deterioration in many ways a metaphor for a once-proud industry now struggling to survive.
But Plank saw only promise.
"Sagamore Farm may be the prettiest place in America," he says. "Go to Grand Canyon, go to Sonoma Valley, but [this] is about as picturesque as it gets."
Stroll through the farm today and it's tough to argue. A winding drive leads from Belmont Avenue to the "Big House" atop a hill. In the foyer, photos of famous Sagamore residents Discovery and Bed o' Roses hang alongside images of Native Dancer, including a framed copy of his 1954 Time magazine cover. A large Maryland flag hangs over a fireplace in the living room, leading to a back patio with sweeping vistas.
All this beauty carries a weighty price, but Plank's pockets are plenty deep. His last public disclosure reported that he owns 12,093,750 shares of Under Armour stock, which was trading at about $68 a share on March 14. While he won't disclose how much he paid for Sagamore, running an operation its size is estimated to be a seven-figure endeavor.
"I'm in [horse racing] because we're building the next great athletic brand," says Plank. "This isn't meant to be some charitable thing that you just throw money at. Frankly, nobody's pockets are that deep, and more importantly, it's just depressing."
To develop a world-class horse, you need a world-class facility. "When we first took the farm over, there were 17 miles of fence ranging from four to 40 years old," Plank says. "While we respect the history of the farm, we're going to build our own history. So the first thing we did was we tore down all that fence."
Eleven miles of new four-board oak fencing have been installed, and 150 acres of corn and vegetation have been returned to pasture. The broodmare and foaling barns have been renovated, and now include an observation room, video monitoring system, large stall windows, and skylights.
The three-quarter mile outdoor track was redone using a synthetic base that includes recycled Under Armour shirts. Down the line, the 90-stall training barn with a quarter-mile indoor track may undergo a facelift.
Sagamore now houses 36 horses, and is expecting eight foals this spring.
"He's training horses there and he's breeding horses there," says Cricket Goodall, executive director of the Maryland Horse Breeders Association. "All of that is evidence of his commitment to the industry. It's a beautiful farm that was in need of somebody to believe in it. There were several wonderful farms that bred great horses in Maryland that over the years have become housing developments. Those are gone, but Sagamore is not, and I think the thoroughbred industry is indebted to him in some ways."
Inside the very first horse trailer that rolled onto Kevin Plank's Sagamore was Shared Account, purchased as a yearling for $170,000.
"Winston Churchill had the famous line, 'There's something about the outside of a horse that is good for the inside of a man,'" Mullikin says. "She had good size, and she has a really cool personality. At the Breeders' Cup, there's all this commotion, and she's just hanging out. I could have put my six-year-old daughter on her. Then she goes out and has a heart like a bulldog."
Shared Account had won just five of her previous 14 starts when she entered the Breeders' Cup. The sharps clearly weren't sold: a $2 Shared Account win ticket wound up paying a wallet-fattening $94. Plank coyly deflects questions about how many of those he held. "Enough that I was sticking money in my socks and my underwear," he says.
When you combine that with the official winner's share of $1.08 million, it was a dream day for Plank, and perhaps more importantly, for Maryland racing.
"You've got to be the ultimate optimist, and you've got to have a great capacity for suffering to be in this business," says Bill Witman, manager of famous Calumet Farm in Lexington, KY. "The win at the Breeders' Cup kind of capped what he's doing in the industry. He's innovative, he's got great support and direction."
At one point before the race, Plank was dismissively ushered aside by the security detail of an Arab sheik. But after it, his place at the podium in the sport of kings was undeniable.
"We're going to use the farm and the little bit of success we've had so far as a vehicle to tell people about racing," he says. "We're producing world champions with the mentality we have here. I want people to know that we did it the Maryland way—we earned it."
♦♦♦