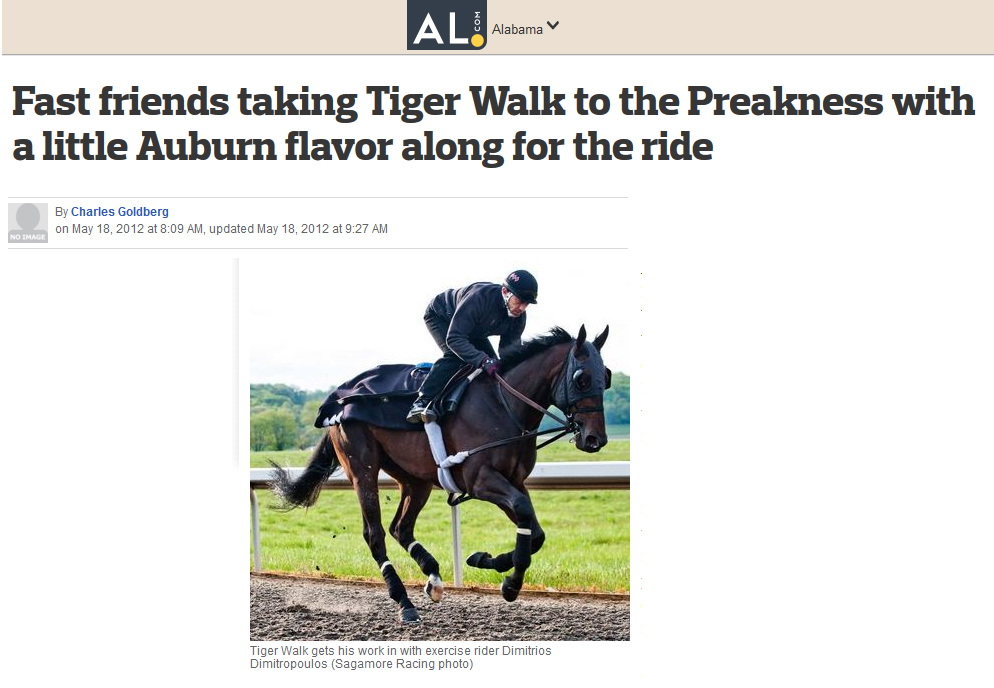 By Charles Goldberg
AUBURN, Alabama — Tom Mullikin and his high school buddy grew up outside of Washington, D.C., within easy distance of Baltimore, Pimlico Race Track and the Preakness, the second jewel of horse racing's Triple Crown.
"In high school and college, the rite of passage was the infield at the Preakness," Mullikin remembered. "It was a huge party, and half the time you didn't know the horses were running around the track."
On Saturday, Mullikin and his high school friend, Under Armour CEO Kevin Plank, will know exactly when the gates open and their horse begins his run.
Auburn fans may want to give at least passing interest as well as Tiger Walk — a 30-to-1 long shot named to acknowledge the university's traditional pregame walk to Jordan-Hare Stadium — begins his journey against a field of 10 others that includes Kentucky Derby winner I'll Have Another and favored Bodemeister.
Mullikin, general manager of Plank's Sagamore Farm in Maryland, named Tiger Walk for his friend. It was easy — Auburn was one of the first schools Under Armour and Plank signed up, in 2005, and the horse's sire is Tale of the Cat.
Hence, Tiger Walk.
"I'm a big SEC fan, and the correlation between Under Armour, Auburn and the sire's name made it kind of a no-brainer," Mullikin said.
Under Armour, then something of an upstart challenger to Nike, signed the apparel company's first contract with Auburn in 2005. It was renewed as a seven-year deal worth $27.4 million in 2009.
Plank kept the tie with Auburn going last year when he signed Cam Newton to a $1 million endorsement deal as the former Tigers quarterback entered the NFL.
Plank wants to make Sagamore Farm a thoroughbred stalwart in Maryland. He and Mullikin tasted success on the big stage when Shared Account won the $2 million Breeders' Cup Fillies and Mares race in 2010 as a 46-1 long shot.
Then the celebration began.
"It's like Auburn taking down Oregon and rolling Toomer's Corner. It's one of those great thrills," Mullikin said.
Or, as Plank said in an Associated Press story, "Nobody thought that she could do it. But she won. That's what makes horse racing great — that lottery ticket in your pocket."
Mullikin doesn't know if they have another lottery ticket in Tiger Walk, who first won at a Maryland track, at Laurel, last year. But he does know he'll have Hall of Fame jockey Kent Desormeaux, a two-time Preakness winner, guiding Tiger Walk on Saturday.
Mullikin and Plank sent Tiger Walk to run at Aqueduct in New York for the three graded races. Tiger Walk finished third in the Grade III Wither Stakes and fourth in the Grade III Gotham Stakes and Grade I Wood Memorial.
They're asking a lot of Tiger Walk in the Preakness.
"Shared Account went off at 46-1, so we're not shy of taking our shots," Mullikin said. "You can't win it if you're not in it."
But there will be six others on the morning line with shorter odds. The Daily Race Form's Mike Watchmaker lists Tiger Walk and four others at 30-1.
"Out of his element in this spot," Watchmaker wrote.
"He's a long shot," Mullikin said, "but if he runs his race, he can hit the board at the end."
Mullikin was happy to see Tiger Walk draw the rail for the Preakness.
"He's been kind of a tough-luck horse in terms of his draw position and his trip," Mullikin said. "He's usually drawn on the outside, and he's had these wide trips. But the other night on the draw for the Preakness, he draws the rail. He's had some adversity, but he's a hard-trying horse. He always runs his race."
Tiger Walk's long odds could be compared to the chance meeting that brought Mullikin back together with his old high school friend and football teammate.
"I had ditched the corporate world and found horses in Kentucky. And his athletic apparel company took off," Mullikin said of Plank. "There was a chance dinner meeting. He said, 'Hey, Tom, let's get into this together.' It completely caught me my surprise. He's very passionate about the state of Maryland, and here's Sagamore Farm that had fallen in disrepair, and he wanted to fix it for
Tiger Walk can help them do just that.
♦♦♦